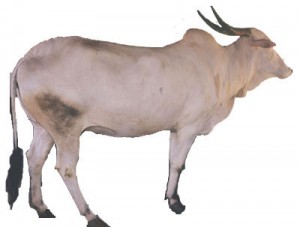 Home Tract:
Hassan, Chikamagalur and Chitradurga districst of Karnataka

Type:
Draught, known for its power and endurance. Developed by rulers of Mysore states between 1572 and 1632 AD. mainly for transportation of army equipments. Earlier called Benne Chewadi. Tippu Sulthan renamed as Amrith Mahal.
Charecters
Skin: Generally Gray, white and black is also seen. Muzzle face, tail switch-black. Cows are white, bulls dark.
Head: Long and tapering, forehead is narrow, furrow in the middle.
Horns: Emerge from top of poll close together backward and upward direction.
Ears:Small and Horizontal.
Hooves:Hard, close together.